Articles
This section has all the available articles displayed chronologically - in total there are 3 articles.
---
Holy Trinity and its Roots - Part 2
In 1881 The Rev. Sandy Burgess Bradshaw, aged 46, became Vicar of Holy Trinity Church. Within a few months his wife Martha died and the pulpit we now have was given in her memory. East of the chancel are two small windows given by the Rev. Bradshaw in memory of his first wife and Martha, who was his second wife. The Rev. Bradshaw oversaw the building of the new church. Last month I told of the building of the first phase and there was then a pause in the building work. In April 1894 the original western part was demolished. On 21st. July 1984 the foundation stone was laid by James Parrott and the completed church was inaugurated in November 1895.

During the next few years work on the interior of the church continued with new windows and a new organ fitted. In 1897 there was a change in hymn book to "Ancient and Modern". In 1904 Harry Haworth, the treasurer, told the Easter vestry meeting that the new organ had cost £1702, decoration £616, lights £167 and a new boiler £146-4s-5d (£146.22 currently).

James Parrott, who laid the foundation stone, was born in London but moved to Manchester to an engineering career. His health was not good so he frequently visited Blackpool. The Preston and Wyre Railway opened in 1840 with a line to Blackpool and, because of his health, James Parrott was given a free ticket for life. However, he lived to 94 and living in Blackpool, though working in Manchester, he was known as the Great Old Man of Blackpool. He lived in Rawcliffe Street for fifty years and was active in public life. He served on the building committee for the church, giving about £200 towards the £14,000 cost and also presenting a clock for the tower, setting up a trust to keep it in good repair. He bought land for the building between Lytham Road and the Promenade and helped St. Pauls, Blackpool Hospital and Marton Institute. He died on 5th. February 1897, aged 94.

In the north transept is a memorial to James Parrott and his family. It reads: "In memory of Mary Parrott who died December 2nd. 1878: also of James Parrott who died February 5th 1897, aged 94 and of Henry the beloved and affectionate son who died November 18th aged 41 years."

"The God of my rock: in him will I trust. He is my shield and the horn of my salvation, my high tower and my refuge, my saviour. 2 Samuel 22,3

Written by Mrs R. Bradshaw
---
Holy Trinity and its Roots - Part 1
In the early 19th Century, the inhabitants of South Shore began to talk about building a church. Thomas Moore, a miller who had the Great Marton Mill at The Oxford, bought part of a field called Starr End, valued at £43-8s-9d. With Robert Rawcliffe, who made pot hooks and ladles, and the Rector of Bispham and Bishop of Chester, an agreement was made to form a conventional district called 'South Shore in Bispham'. The church was built in 1836 on the site among sandhills. The architect was a John Braithwaite and the church was built by public subscription and a grant from Queen Anne's Bounty. It held about 250 people.

In 1886, a squall of wind made the roof ridge supports sag and a new church had to be built. From this old church we have the keystone, which is over the church entrance, and two original stained glass windows. In the ladies? toilet is one in memory of May Sykes representing two Apostles and, in the kitchen, one representing St. Peter and St. Andrew to Robert Rawcliffe, who with Mr. Moon, was our first Church Warden.

The plans of the new church were drawn up by Richard Kniel Freeman. His work was mainly ecclesiastical (churches, vicarages, etc.), but he also designed other buildings and even made additions to the piers of Blackpool and Southport. Although his work was mainly in the North-West, he also designed buildings abroad. He built the only Anglican church in Moscow and a church and house in San Remo. Holy Trinity Church was considered to be his 'chef d'oeuvre' - his very best. He had worked in Portsmouth before moving to Bolton.

After the plans were approved, the contract was given to Mr. Dean of Castlegate and Mr. Moore of Rawtenstall. The foundation stone was laid with Masonic honours in June 1888 on the exterior east wall. In a cavity, Masonic memorabilia were placed and the stone laid by Sir Matthew W. Ridley MP. The Mayor of Blackpool, Councillor Fish, laid another stone in the south-east corner. The Vicar, Rev. S V Bradshaw, handed him a statement containing the names of the building committee, the Masonic Committee and officials of the Borough of Blackpool. These were placed in a cavity in the stone the Mayor laid. The new chancel extended into a site purchased from the Trustees of the adjoining Church School. This and the transepts were built first.

To be continued

Written by Mrs R. Bradshaw
---
Holy Trinity Mission Statement
The church "think tank" spent a number of months looking and praying at where Holy Trinity was and where they believed it should be. When this was completed the Mission Statement shown below was generated. Now all activities within the church and the organisations are filtered through this statement to ensure that they meet these aims.
Holy Trinity Mission Statement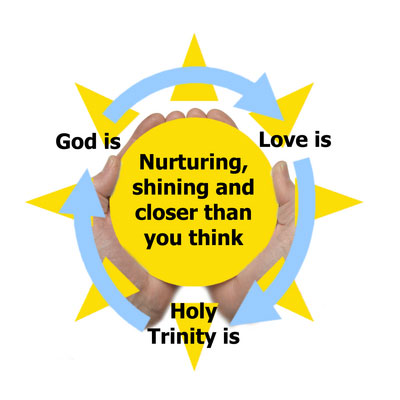 Nurturing
On our journey together through life we seek to learn more about God so he will help us to encourage each other, learn more about ourselves and to worship him.
Shining
God gave us a living hope through his son Jesus. We want to offer hope and new life to our community in South Shore and to the world.
Closer than you think
God is love, God is in you, God is in me. Even if you feel he's a million miles away he's right next to you and closer than you think.
---