All news items
This section has all the available news items displayed chronologically - in total there are 22 news items, displayed over 5 pages.
---
A Season of Invitation beginning 28th Sept 2014
A Season of Invitation 2014
A Season of Invitation began as 'Back to Church Sunday' in 2004, which was an annual opportunity for churches across the UK and abroad to invite people to come with them to church. Ten years on, we're entering a new season, moving from one invitational service to five:
Back to Church Sunday - 11am on 28th September
Harvest - 11am on 12th October
Remembrance - 10.55am on 9th November
Advent starts - 11am on 30th November
Carol Service 21st Dec 6pm
Christmas Eve - Christingle 4pm and Midnight Mass at 11.30pm
Why not invite friends or relatives to begin this season of invitation and invite them to join us for worship on 28
th
Sept?
---
The Sacrament of Confirmation
The Deanery Confirmation service will be held at Holy Trinity Church on Sunday 16th November 2014 at 6.30pm. This is a service at which young people (usual aged 10 or over) and adults will be confirmed by one of our bishops. Confirmation is a step in our journey of faith for all who have been baptised. It is a time to declare and answer for ourselves the promises that were made at our baptism. There will be 2 groups exploring faith starting in Autumn - one for children and one for adults. The children's group usually meets at about 5pm for 45 minutes at the vicarage. Everybody is invited to come along to the adult group. It will be a time to learn more about our faith and to share experiences of God. They will be of special importance to those who are considering confirmation. The adult group will meet at St Peter's Church at 3pm on Fri 12th Sept. Please do come along and enjoy a cuppa and a relaxing chat together.
---
Easter Sunday Sunrise Service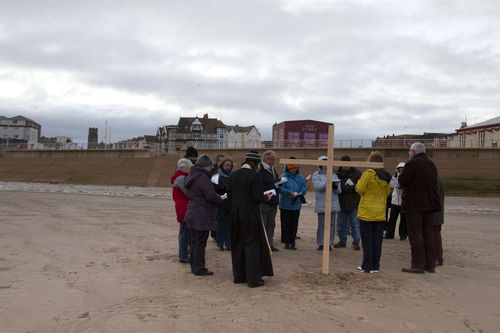 The early birds of Holy Trinity and St Peter's gathered on Blackpool beach for an sunrise service on Easter Sunday. Having been through the journey of Lent and Holy Week we gathered on the beach to find:


He is Risen! Alleluia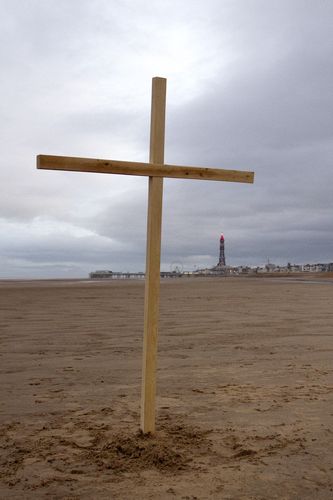 Matthew 28, GNB
1 After the Sabbath, as Sunday morning was dawning, Mary Magdalene and the other Mary went to look at the tomb. 2 Suddenly there was a violent earthquake; an angel of the Lord came down from heaven, rolled the stone away, and sat on it. 3 His appearance was like lightning, and his clothes were white as snow. 4 The guards were so afraid that they trembled and became like dead men. 5 The angel spoke to the women. "You must not be afraid," he said. "I know you are looking for Jesus, who was crucified. 6 He is not here; he has been raised, just as he said. Come here and see the place where he was lying. 7 'Go quickly now, and tell his disciples, He has been raised from death, and now he is going to Galilee ahead of you; there you will see him!' Remember what I have told you." 8 So they left the tomb in a hurry, afraid and yet filled with joy, and ran to tell his disciples. 9 Suddenly Jesus met them and said, "Peace be with you." They came up to him, took hold of his feet, and worshipped him. 10 "Do not be afraid," Jesus said to them. "Go and tell my brothers to go to Galilee, and there they will see me."
Following the service we returned to church to share in breakfast and fellowship.
---
Licensing of the Reverend Tracy Charnock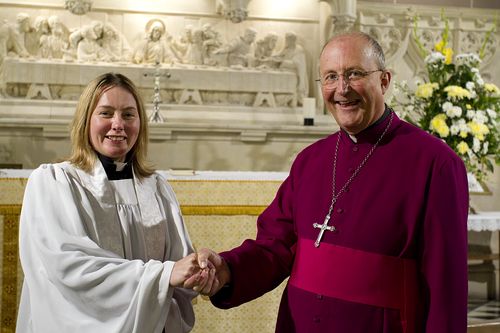 On Thursday 8th September 2011, the Bishop of Blackburn licensed the Reverend Tracy Charnock as Priest-in-Charge of Holy Trinity and St Peter's South Shore. This marks the start of an exciting new era for the two churches working together.

The first service will be a joint one at St Peter's on Sunday the 11th September at 10:30am. On the following Sunday there will be a service of Holy Communion at 8:30am (Holy Trinity), 9:30am (St Peter's) and 11am (Holy Trinity).

Please pray for Tracy as she begins her new ministry in South Shore.
---
Interregnum
As we have now said farewell to David, Alison and Joshua we begin a time of interregnum. There are a lot of changes as a result of this, the most obvious being that for the foreseeable future we will be seeing a variety of ministers for services. We think it is important to remember during this time that although things are different - our God remains constant and unchanging. He will be faithful to his believers and work to begin a new chapter of ministry in South Shore. Our best response and the one expected by our Lord is one of a prayerful reflection. During this time we would like to ask everyone to pray for the following:

David and his family as they start a new ministry.
The process and people involved with finding a new minister to continue a fruitful ministry in South Shore
The churches working together in South Shore
God's grace to heal his churches
The Church Wardens
---
< Page 3 of Results&nbsp&nbspPage 5 of Results >