All news items
This section has all the available news items displayed chronologically - in total there are 22 news items, displayed over 5 pages.
---
Events in September and October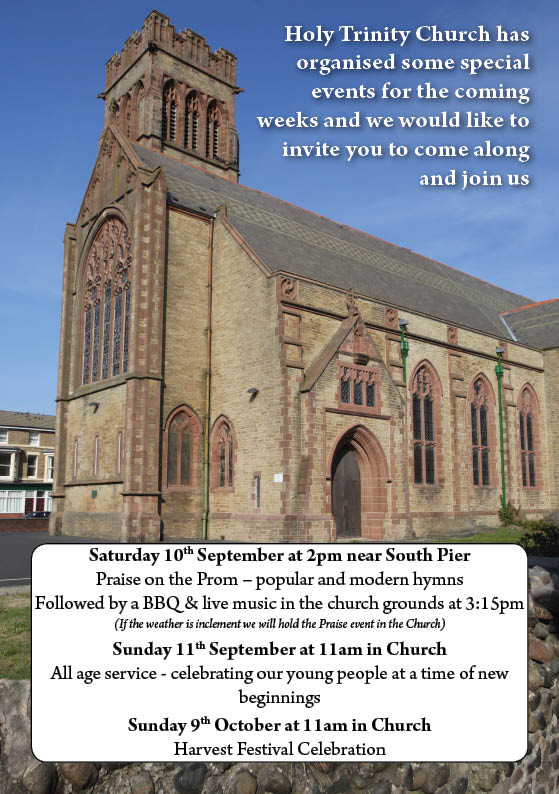 ---
Palm Sunday Procession 2016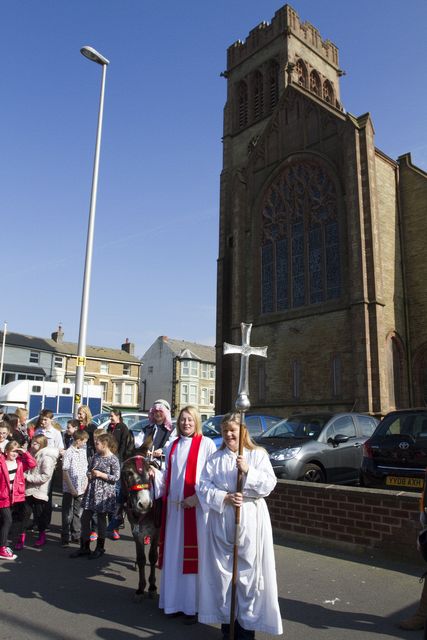 Palm Sunday 2016 procession with Harry the donkey - remembering the triumphal entry of Jesus into Jerusalem as we start the most Holy Week of the year. There are many more services this week - please do come along you will be made most welcome. Service times are listed below or in the calendar on this website.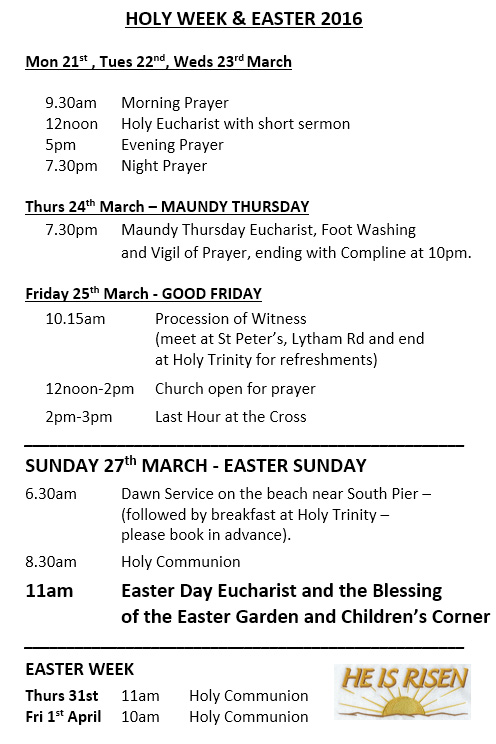 ---
Holy Week and Easter Services 2016
---
Trinity Theatre group - The Princess and the Frog
Trinity Theatre group will be performing "The Princess and the Frog" later this year.

Matinee performances at 2:30pm on Saturday 28th and Sunday 29th November and evening performances at 7:30pm on Tuesday 1st, Wednesday 2nd and Friday 4th December. Tickets are £6 adult and £5 children and concessions available on the door or phone Kath on 405596.
---
Holy Week and Easter 2015
Mon 30th, Tues 31st, Weds 1st April
Morning Prayer 9.30am
Compline 7.30pm
Maundy Thursday 2nd April
7.30pm The Eucharist of the Last Supper and Foot Washing followed by vigil of prayer ending with Compline at 10pm.
Good Friday 3rd April
10.20am - Meet at St Peters Church, Lytham Rd FY1 6DJ for Proecssion of Witness along the Prom to South Pier, then over to Holy Trinity Church for refreshments.
12noon until 2pm - Holy Trinity Church open for silent prayer.
2pm-3pm - The Last Hour Before the Cross
Holy Saturday 4th April
9.30am Morning Prayer
Followed by church cleaning for Easter.
Easter Sunday 5th April
Meet at 6am at St Peters Church or on the beach at the end of Crystal Rd for 6.15am - Dawn Service of Prayers and Hymns as we greet the sunrise of this glorious day. Followed by breakfast at St Peters Church (please book this in advance 344773).
Holy Trinity Easter Day Communion Services
8.30am Holy Communion
11am Parish Communion for Easter Sunday
---
< Page 2 of Results&nbsp&nbspPage 4 of Results >