All news items
This section has all the available news items displayed chronologically - in total there are 19 news items, displayed over 4 pages.
---
Trinity Theatre group - The Princess and the Frog
Trinity Theatre group will be performing "The Princess and the Frog" later this year.

Matinee performances at 2:30pm on Saturday 28th and Sunday 29th November and evening performances at 7:30pm on Tuesday 1st, Wednesday 2nd and Friday 4th December. Tickets are £6 adult and £5 children and concessions available on the door or phone Kath on 405596.
---
Holy Week and Easter 2015
Mon 30th, Tues 31st, Weds 1st April
Morning Prayer 9.30am
Compline 7.30pm
Maundy Thursday 2nd April
7.30pm The Eucharist of the Last Supper and Foot Washing followed by vigil of prayer ending with Compline at 10pm.
Good Friday 3rd April
10.20am - Meet at St Peters Church, Lytham Rd FY1 6DJ for Proecssion of Witness along the Prom to South Pier, then over to Holy Trinity Church for refreshments.
12noon until 2pm - Holy Trinity Church open for silent prayer.
2pm-3pm - The Last Hour Before the Cross
Holy Saturday 4th April
9.30am Morning Prayer
Followed by church cleaning for Easter.
Easter Sunday 5th April
Meet at 6am at St Peters Church or on the beach at the end of Crystal Rd for 6.15am - Dawn Service of Prayers and Hymns as we greet the sunrise of this glorious day. Followed by breakfast at St Peters Church (please book this in advance 344773).
Holy Trinity Easter Day Communion Services
8.30am Holy Communion
11am Parish Communion for Easter Sunday
---
A Season of Invitation beginning 28th Sept 2014
A Season of Invitation 2014
A Season of Invitation began as 'Back to Church Sunday' in 2004, which was an annual opportunity for churches across the UK and abroad to invite people to come with them to church. Ten years on, we're entering a new season, moving from one invitational service to five:
Back to Church Sunday - 11am on 28th September
Harvest - 11am on 12th October
Remembrance - 10.55am on 9th November
Advent starts - 11am on 30th November
Carol Service 21st Dec 6pm
Christmas Eve - Christingle 4pm and Midnight Mass at 11.30pm
Why not invite friends or relatives to begin this season of invitation and invite them to join us for worship on 28
th
Sept?
---
The Sacrament of Confirmation
The Deanery Confirmation service will be held at Holy Trinity Church on Sunday 16th November 2014 at 6.30pm. This is a service at which young people (usual aged 10 or over) and adults will be confirmed by one of our bishops. Confirmation is a step in our journey of faith for all who have been baptised. It is a time to declare and answer for ourselves the promises that were made at our baptism. There will be 2 groups exploring faith starting in Autumn - one for children and one for adults. The children's group usually meets at about 5pm for 45 minutes at the vicarage. Everybody is invited to come along to the adult group. It will be a time to learn more about our faith and to share experiences of God. They will be of special importance to those who are considering confirmation. The adult group will meet at St Peter's Church at 3pm on Fri 12th Sept. Please do come along and enjoy a cuppa and a relaxing chat together.
---
Easter Sunday Sunrise Service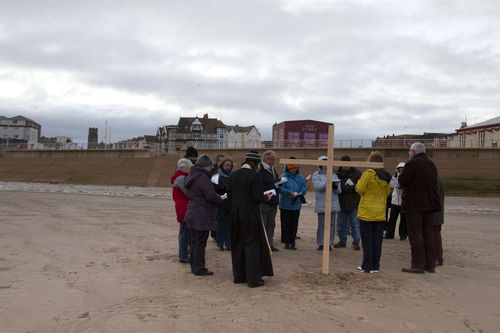 The early birds of Holy Trinity and St Peter's gathered on Blackpool beach for an sunrise service on Easter Sunday. Having been through the journey of Lent and Holy Week we gathered on the beach to find:


He is Risen! Alleluia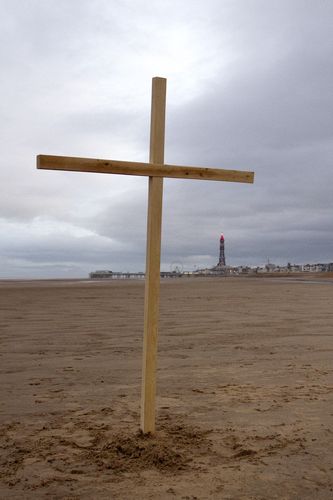 Matthew 28, GNB
1 After the Sabbath, as Sunday morning was dawning, Mary Magdalene and the other Mary went to look at the tomb. 2 Suddenly there was a violent earthquake; an angel of the Lord came down from heaven, rolled the stone away, and sat on it. 3 His appearance was like lightning, and his clothes were white as snow. 4 The guards were so afraid that they trembled and became like dead men. 5 The angel spoke to the women. "You must not be afraid," he said. "I know you are looking for Jesus, who was crucified. 6 He is not here; he has been raised, just as he said. Come here and see the place where he was lying. 7 'Go quickly now, and tell his disciples, He has been raised from death, and now he is going to Galilee ahead of you; there you will see him!' Remember what I have told you." 8 So they left the tomb in a hurry, afraid and yet filled with joy, and ran to tell his disciples. 9 Suddenly Jesus met them and said, "Peace be with you." They came up to him, took hold of his feet, and worshipped him. 10 "Do not be afraid," Jesus said to them. "Go and tell my brothers to go to Galilee, and there they will see me."
Following the service we returned to church to share in breakfast and fellowship.
---
< Page 2 of Results&nbsp&nbspPage 4 of Results >